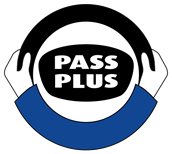 Pass Plus
Pass Plus is a training scheme linked to insurance discounts that benefit you, the NEWLY QUALIFIED DRIVER, by saving you money on your car insurance premiums, showing you a positive driving style which is both enjoyable and safe & helping you gain quality driving experience safely.
Pass Plus has been developed by The Driving Standards Agency with the help of insurers and the driving instruction industry (us).
The course is designed to;
Improve your skills in areas where you may have little experience & reduce the risk of being involved in road accidents.
The course:
The course consists of a minimum of 6 modules;
Introduction Town driving
All weather driving
Out of town driving and rural roads
Night driving
Dual carriageway driving
Motorway driving
The course is conducted over a minimum of 6 hours in-car driving.
(More lessons may have to be taken to get to the required standard at an extra cost)
After successful completion of the course you will receive a certificate from The Driving Standards Agency which you can then use to claim your discount from a participating insurance company.